Student Success Toolbox
ISBN# 978-1-60263-112-0 (Print: $10 + $6 S&H) (Digital Download: $8.00)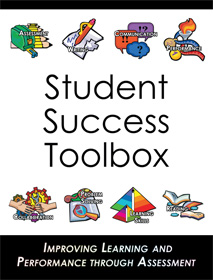 More than 20 years in the making, the Student Success Toolbox is the definitive collection of tools and tips that make increased success possible for any student. With the tools (forms, rubrics, methodologies, and profiles) to support improved performance through assessment, it will help your students be more organized and better readers, writers, thinkers, communicators, and team players.

Though the book is full of useful tools (on perforated pages for ease of student use and turn-in), the book is only half the picture. The companion website contains additional tools such as rubrics and methodologies. Adoption of the book for your course allows for term or semester-long access to the Online Toolbox for yourself and your students. If you want more of what's in the book, you'll find it online.
| | | |
| --- | --- | --- |
| Print Version | Digital Download | |
| | | |
Table of Contents
Website
Preview Book
General Tools

Log of Entries

Glossary

Concept Map Form ( + a sample)

Addressing & Avoiding Errors ( + a sample)

Reading Log (2 + a sample)

Learning Journal (3 + a sample)

Mentoring Planning

Mentoring Agreement

Team Tools


Introduction to Forming Teams and Team Roles

Reflector Report (3 + a sample)

Recorder Report (2 + a sample)
Weekly Reflector Report
Weekly Recorder Report

Performance Improvement Tools

Continuum of Performance Levels
SII Self-Assessment Report (3 + a sample)
SII Performance Assessment Report (2 + a sample)
SII Team Assessment Report (3 + a sample)
Getting a Handle on Performance: The Performance Model
Performance Analysis and Assessment (2 + a sample)
Preparation Worksheet ( + a sample)

Course Tools

How to be an "A" Student
Course Record Sheet
Weekly Planner (2)
Blank Calendar (3)
Beginning: Analyzing a Course Syllabus (Activity)
Learning Contract
Mid-Term: Mid-Term Assessment Form
Closure: Course Assessment
Classification of Learning Skills
Access to the web-based tools is by semester or term; a single User ID and Password may be used by all students in a single course (ID and password information is given to the instructor for distribution).


Assessment

Rubrics

Performance Levels for Assessors
Rubric for Elevating SII Reports

Methodologies

Assessment Methodology

Forms

SII Self-Assessment
SII Performance Assessment
SII Team Assessment
Performance Analysis & Assessment
Mid-Term Assessment
Course Assessment

Communication

Rubrics

Performance Levels for Oral Communication
Performance Levels for Listening

Methodologies

Communication Methodology

Forms

Spokesperson Report

Other

Tips for Delivering a Presentation
Criteria that Affect the Quality of Listening

Performance

Rubrics

Continuum of Performance Levels
Rubric for Regulation of Motivation
Rubric for Persisting


Forms

SII Performance Assessment
Performance Analysis and Assessment


Other

The Performance Model

Reading

Methodologies

Reading Methodology


Forms

Reading Log
Reading Log Assessment
Lecture/Lab Notes
Glossary


Other

Note-taking & Reading Comprehension

Collaboration

Rubrics

Performing in a Team

Methodologies

Teamwork Methodology

Forms

Team Assessment Report
Planner Report • Recorder Report • Reflector Report
Spokesperson Report
Weekly Recorder Report • Weekly Reflector Report


Other

Profile of a Strong Team Player

Learning Skills

Forms

Learning Journal


Other

Introduction to the Classification of Learning Skills
Domains: Cognitive • Social • Affective
Stages of Learning Skill Development
Competency Levels: Cognitive • Social • Affective
Expanded Listing: Cognitive • Social • Affective

Problem Solving

Rubrics

Rubric for Problem Solving

Methodologies

Problem Solving Methodology
Problem Solving Methodology Example

Forms

Applying the Problem Solving Methodology

Addressing & Avoiding Errors

Other

Profile of a Strong Problem Solver
Learning Skills for Problem Solving

Writing

Rubrics

Writing Performance Levels

Methodologies

Writing Methodology

Forms

Writing Assessment Form
Learning Journal

Other

Attributes of High Quality Writing